Vin Diesel and Paul Walker reunite on the latest cover of Entertainment Weekly. And rightfully so, their latest Fast & Furious grossed an astonishing $71 million at the box office this past weekend.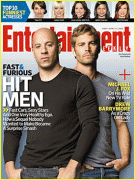 "Tom Hanks once told me that it doesn't matter where you are in your career, you'll always have highs and lows," Diesel , 41, says. "This just happens to be a high. I'm just so appreciative and grateful that all these people that I talk to, verbally and nonverbally, through my films all showed up at the theater. They came out in droves—double the amount the studio thought we were going to appeal to. That is such a cool feeling. I'm just high on life at the moment." Walker, 35, sounds like he has a new spring in his step as well. "We got lucky," he says. "For some reason, the movie gods weren't ready to see Vin and me wiped off the face of the earth just yet."
Paul also explains why he had to come back to the F&F franchise. "I didn't do the third movie, and the fans let me know how disappointed they were," he recalls. "They were like, 'Why didn't you come back? What—you think you're too good for Fast & Furious?' It's a lousy feeling."
BTW, there's already a fifth Fast & Furious in the works already!
Source